Okay in all reality that really has nothing to do with today's post. I just couldn't think of a witty title, but give me a break, I'm running on like 3 hours of sleep. I guess it kind of works with my question of the day though. Basically... when a movie has been "based" on a book, do you always read the book first then see the movie or do you ever see the movie first and then want to read the books? Does this affect how you view the counterparts? I think it's safe to assume with most of my followers that we are book loving fiends...therefore we tend to gravitate towards books before movies and often we think that the movies are no match for the books. I have heard a few arguments against that theory but I'm just curious as to what you all think. I recently watched two movies that were adapted from a book. One I have read the book before and the other one I have not.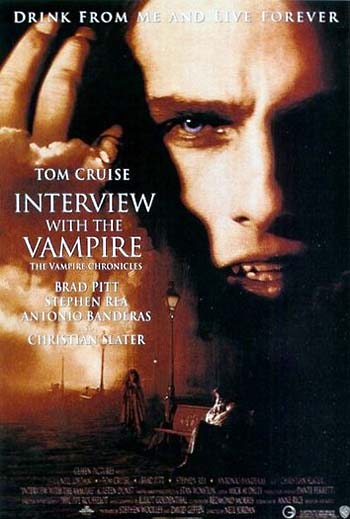 I had previously read Anne Rice's novels and quite enjoyed them. (Oh so much I could say about Stephenie Meyer right now, but that is a discussion for another day.) After watching the movie version, I thought they did quite well adapting it from the book. Of course Anne Rice did help in the writing of the screenplay, that usually means they have a little bit of control over what happens. The thing about this movie is that if I had seen it first before reading the book, I believe it would have made me very interested in picking up the book. Sometimes I think movies are helpful in that way because a lot of people who have left the art of reading behind in their high school days may watch a movie and realize there is a book attached to it and actually want to read it.
Now, after seeing Shutter Island which was a good enough movie on its own did not inspire me one little bit to want to read the novel. In fact, the movie turned me off of wanting to read it. This is one of the risks movies run when adapting from novels and it's quite a shame because I've heard marvelous things about the novel, but now I have no interest in picking it up. However, in rare cases, some movies may be even better than the novels. Not often, but sometimes.
Just thought I'd throw those questions out for you... oh and Happy Father's Day to all you Dads out in the blogosphere! I hope its a fantastic one, because you guys deserve it!